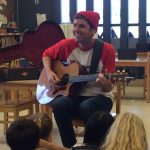 Here's the Chris French bio from the team.
Chris French has worked with thousands of elementary, middle and high schoolers for over 20 years. Along with directing summer camps and after school programs, he was influential in starting the YMCA's character development program and the training of it to its employees. His simple, yet powerful message of being nice is easy to retain because he is so relatable. Also a children's musician, he's performed in front of thousands of kids at camps, community and school events.
---
Here's a little something from yours truly.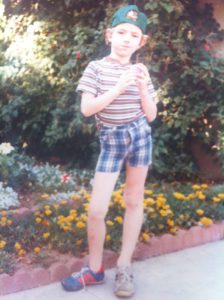 I was born in and have spent most of my life in Southern California. Growing up, we had 27 dogs in our Orange County backyard...that's right, 27. I would travel around to dog shows with my dad where I learned to not call Dachshunds "wiener dogs" in front of professionals. I'm the youngest of three sons so it's safe to say that I was a "momma's boy" growing up. I had to be, with my 2 older (much bigger) brothers who were perfect in performing their duties as enforcers, executioners, self-esteem deflators and protectors. 
In the early 80's we moved to Pennsylvania, where my main influences were Transformers, G.I. Joe and Mr. Hibbard. The first two you know (hopefully) but the third was my Social Studies teacher. Get this...after school, Mr. Hibbard would regularly put a small group of us into his car and drive us deep into woods where we would explore our petrological natures and he would teach us about rocks. After, he took us out to ice cream and dropped us all off at our homes. Understand, this was a different time. We were less paranoid as a society back then and our culture hadn't yet changed into what we see as today. He was great. Completely selfless and he innocently did this because he truly cared about the kids he was teaching. He taught me a lot about being nice, not only in our conversations, but by his example. 
When I was 12, we moved back to Orange County, CA. It was a strange time in my life, I felt lost. I missed my PA friends and I had MAJOR identity issues. I tried to fit in with all sorts of social groups, but nobody accepted me as much as the (for lack of a better word) troublemakers. Let's just say that I had a fair amount of run-ins with the law...and by the law, I mean Clair and Susan; the golf cart bouncers at my school (Side note: When giving a fake name, don't panic and use your middle name and actual last name...they WILL find you). I'm thankful for the guitar I got when I was 16. I gained a real appreciation for music and I immersed myself in it. Somehow, I survived but what changed me the most were the 2 jobs I would soon get.
I think when you live in Anaheim, it's mandatory that at some point in early adulthood, you work for Disney (AKA: The World's Largest People Hole Built By A Rat). Being a Jungle Cruise skipper for years taught me a lot about public speaking and yelling at audio-animatronic animals. Aside from being a public speaker for our youth, THIS was the greatest job ever. During that time, my life changed even more when I got hired as an after-school counselor at the YMCA. From there, I started directing summer camps, family programs and model legislative programs for teens. I became a trainer in the Y's character development campaign and learned so much!  This was my purpose. I had finally found my identity. In 2008, the camp I directed won the American Camp Association award for best camp in the nation, specifically for its music and the character program that I was in charge of.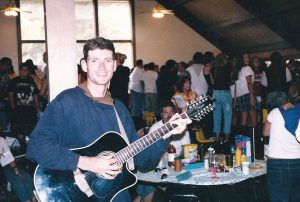 While at the summer camps for 7-18 year olds, I realized an important thing: Although the yearly themes were different, the message we practiced and talked about day after day was generally the same. At the end of campfire and when the closing stories were all done, we would tell the kids to "be nice". Those words are so simple. We forget so much of what we're taught in life, and "be nice" just seemed like an easy reminder for everything. In 2013, I released a children's album and the last song I laid down was a track called "BNICE". It meant so much to me. It's like something within me turned on. So I began my quest for simplicity and to inspire moral awareness in myself and others within the message of 'BNICE". 
Today, I travel all over the country and speak about the lessons of being nice that I learned from my experiences transitioning from a troublemaker to a professional character education advocate, with a Jungle Cruise twist. I'm a die-hard baseball fan and I take my daughter to games whenever possible. I've also officiated 16 weddings. It's a lot of work, but wow...so worth the honor of being a part of 2 peoples special day.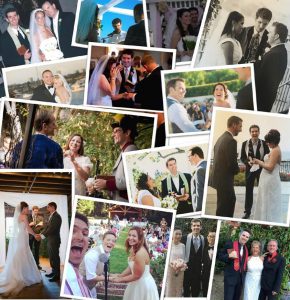 I love the experiences that have led me to where I am. As a "Moral Awareness Speaker", I have a weird job...and I love it so much! 
Take the BNICE challenge: Do something nice today for someone but don't tell anyone that you did it. 
"The time is always right to do what is right" - Dr. Martin Luther King Jr.
All My Love, 
Chris French
---
What I'm Doing When I'm Not Presenting
Just a few videos of me being a dork at camp and wherever. The "Werewolf v Teacher" video is my daughter and I, where she's killin' it at campfire. She's so funny.
---